FOAL SHARES AND SEASONS                                                                                                  through Bob Losey (rllosey@gmail.com or 502 708 1931)
For 2019 I have identified deals for stallions in almost every price range.   As the breeding season nears, stallion managers who see that they're not going to fill books at advertised prices turn to foal and mare-share deals to increase the number of mares bred.  
Over the years I have arranged hundreds of foal and mare share deals with (for instance) Tiznow, Scat Daddy, Bodemeister, Hard Spun, Mineshaft (see story below), Ghostzapper, Super Saver, Kitten's Joy, Indian Charlie, Street Cry, Unbridled, Bernstein, Mt. Livermore, Cozzene, El Gran Senor, Lear Fan, and many more.  If you're interested, I can help, as I deal in volume, have contacts at farms and with agents, and I shoot straight with everyone involved.
I also have breeding rights of my own and have access to breeding rights and seasons through my extensive contacts.  In the process of pursuing foal shares I also locate live foal and no-guarantee deals at favorable terms.  If you prefer that route I can often find deals that individuals have difficulty accessing.  Contact me for extensive data on foal share prospects and seasons.
(A Super-Successful Foal Share Deal – The following was written in Aug. 2017) Hip 2903 at Keeneland Sept. 2017 is a very nice colt that is a foal share with Mineshaft out of Bob Losey's mare Joels Last Laugh.  This colt is correct and has good size, notwithstanding that he's a May 2 first foal.  He is a bit short-coupled at this stage, though the mare herself "stands over a lot of ground" as Europeans are wont to describe a lengthy, long-striding individual.  No vices, has had no surgeries, and will sell with a modest reserve because it is a foal share.  Joels Last Laugh is a half-sis to three top-notch SWs.  Here is the link to the pedigree page http://apps.keeneland.com/sales/Sep17/pdfs/2903.pdf   
Lane's End and I were very pleased at the reception of this colt — 8 scopes, 6 X-ray repository reads, 3 heart scans.  And he did his part – showing well through 80+ viewings and bringing $165,000.  Thanks to Lane's End for the foal share deal and a great job in presenting him.  Thanks to Sean Curtin for a marvelous job raising and prepping him.  All the best for the buyer (Ben Glass, agent).  (Dec. 2018 update — This colt is named Breaking News, and here are recent workout reports.)  Breaking News worked 5f MT ft in 1:01.40 B (11/66) at FG, 12/15/18,                                    and Breaking News worked 5f MT ft in 1:01.60 B (18/71) at FG, 01/05/19
Mare for Sale: Show Me Mo, Hip 140 (picture below) is a winning Uncle Mo 2014 mare with a Feb. 17 LBD.   She's medium-size and correct.  She was a $100,000 yearling and is a 1/2 sister to a Keeneland SW that is a stakes-producer.  Family of Ky. Derby winner Mine That Bird.  Asking $30,000. Here's a link to her Keeneland page–>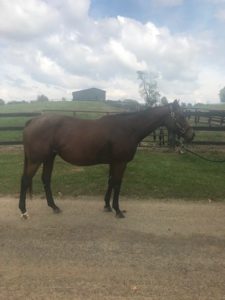 http://apps.keeneland.com/sales/Jan19/pdfs/140.pdf