2021 is likely to be a better year for accessing foal and mare shares than 2020, which began as a difficult year for arranging foal shares, then loosened up with the Covid 19 lockdown in March. I favored stallions with great pipelines of future runners that could increase upside potential. I arranged multiple foal shares to Macleans Music and Dialed In (8th and 12th respectively on the 2yo sire list as of Dec. 15). Other foal share stallions I won't name in print* included 1) the leading sales sire with 1st yearlings of 2020, 2) the perennial leading turf stallion, and 3) a G1 son of A. P. Indy with 1st foals 3 yos of 2020 that has had two GSWs since the deal was signed. I also arranged below-market prices on a variety of LF seasons. *Stallion managers often prefer not to see their stallions' names mentioned in connection with "deals."
History suggests that 2021 will see a better-than-usual availability of foal and mare share deals, as down markets make it harder for stallions to fill books, and farms turn to foal/mare share deals and other less traditional approaches to attract mares.
Foal share deals typically become more accessible in late November as farms figure out which stallions won't fill at the advertised stud fee. (As of mid-December 2020, I've identified several outstanding stallions that are doing foal shares for 2021 – RL.)
I facilitate foal/mare share deals and lfsn contracts at all levels. I specialize in arranging foal or mare-share contracts that get you to mid and upper-tier stallions that move your mare up the quality ladder. Over 30+ years I have arranged hundreds of foal and mare share deals, including foal/mare share deals to Speightstown, Tiznow, Scat Daddy, Hard Spun, Mineshaft (see story below), Ghostzapper, Super Saver, Kitten's Joy, Indian Charlie, Street Cry, Unbridled, Mt. Livermore, Harlan's Holiday, El Gran Senor, and many more. If you're interested, I can help: I have contacts at farms and with owners, and I shoot straight with everyone.
Foal/Mare share advantages:
Typically you can breed to a substantially better-quality stallion than you would consider paying a lfsn fee for.
You lower risk because you pay only when you sell and the "standard" contract has you paying ½ or less of the foal's sales price to the stallion season owner.
No sales tax is typically paid on the payment to the stallion owner.
You don't need to insure to cover a stud fee, as no money is due to the stallion owner if the foal dies.
In most cases, sales expenses are shared with the season provider.
Giveups: You normally have to share breeder awards, and yes, if your mare produces a knockout foal, you might have been better off paying the stud fee. But in that case, you might be in the same position I was when the hammer went down at $165,000 on the Joel's Last Laugh colt from the foal share deal (described below).– I was thrilled, as I would have considered contracting for a Mineshaft stud fee a bridge too far for her first breeding.
Timing: Though a few deals appear early, most farms wait until they have gauged demand for their stallions and that typically means that this market gets serious after the November sales. It continues throughthe breeding season, though most deals are done late November through early February.
Mare Qualifications: Mare qualifications increase with the quality of the stallion. For example, for stallions whose seasons legitimately sell for $25,000 or better, you'll need a quality mare (which in most cases means significant black type in the first two dams, usually with some graded black-type). To get to better stallions, some farms do, others don't require that you breed a second mare and pay a stud fee (fee typically in the $5,000-$15,000 range for a farm stallion on the make or that is having a slow year. These fees are sometimes at, sometimes below the advertised price. Amd, there are foal shares done at the highest levels of the market. (Secretariat was the product of a foal share deal involving two mares. Bold Ruler with Somethingroyal produced Secretariat, but the season owner chose the other foal, leaving Penny Tweedy to make do with Secretariat.)
If you have a nice mare and want to explore possibilities, email or call to discuss stallions (proven or unproven) that are interesting foal-share prospects.
In most cases you pay nothing to me because the season owner pays me a percentage of your foal's sales price. In the few cases when the season owner will not pay agents, my fee is 1-2% of the hammer price.
Call Bob Losey at 502 708 1931 or email at rllosey@gmail.com for information.
(A Super-Successful Foal-Share as advertised pre-sale Sept. 2017)
Hip 2903 at Keeneland0 Sept. 2017 is a very nice colt that is a foal share with Mineshaft out of Bob Losey's mare Joels Last Laugh. This colt is correct and has good size, notwithstanding that he's a May 2 first foal. He is a bit short-coupled at this stage, though the mare herself "stands over a lot of ground" as Europeans are wont to describe a lengthy, long-striding individual. No vices, has had no surgeries, and will sell with a modest reserve to dissolve the foal share partnership. Joels Last Laugh is a half-sis to three top-notch SWs. Here is the link to the pedigree page http://apps.keeneland.com/sales/Sep17/pdfs/2903.pdf
Lane's End and I were quite pleased with the reception of this colt — 8 scopes, 6 X-ray repository reads, 3 heart scans. And he did his part – showing well through 80+ viewings and bringing $165,000. Thanks to Lane's End for the foal share deal and a great job in presenting him. Thanks to Sean Curtin for a marvelous job raising and prepping him. Best of luck to the buyer (Ben Glass, agent for the Wests). (2020 update — This colt, named Breaking News, ran 2nd at OP in his first start. Soon thereafter he won a MSW ($100,000 purse) at OP and now has winnings of $185,000 in 15 starts.)
Joels Last Laugh, dam of Breaking News, has a foal share Tiznow 2020 colt and is due in 2021 on a foal share to the leading U. S. turf sire.
If you are interested in claiming partnerships, I can help. I claimed Joels Last Laugh (see above foal share) for $5,000.
Call Bob Losey at 502 708 1931 or email at rllosey@gmail.com for information.
MARES FOR SALE (2021)
Playin N Traffic, a half-sister to Brooklyn Handicap (G2) winner Birdtown, is just off the track. Playin N Traffic won a MSW and $49,710 in 8 starts. She's a correct, very pretty 16-1 roan/gray from the family of champion Family Style. Her pedigree is at Lay out 1 (keeneland.com) and her picture is below. She'll be offered in the Fasig-Tipton Feb. sale if I haven't yet obtained a mare or foal share deal to a stallion on the order of Flatter, Malibu Moon, More Than Ready or Twirling Candy (all great crosses)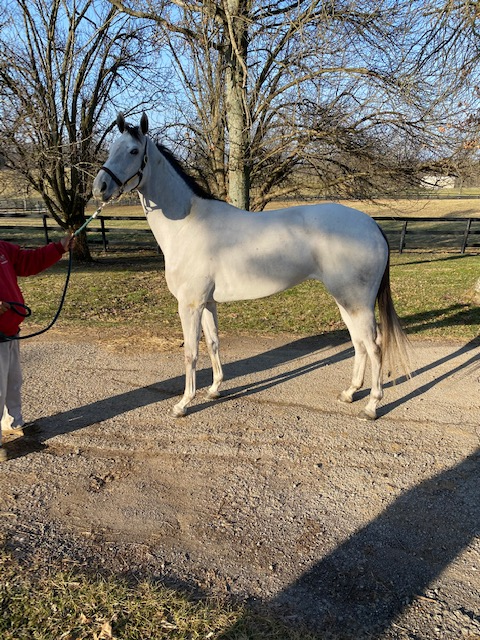 Emily (2012) is by Sky Mesa, and out of twice G1-placed Izarra, a half-sister to Breeders Cup Classic winner Fort Larned, winner of over $4 mil. Champion Bayokoa is the 3rd dam. Emily's a big, strong mare standing xx H. She's in foal to Mastery on an April 9 cover. Her pedigree is at Layout 1 (keeneland.com). Emily can be seen at Millennium Farm, phone (859) 294-5439. She's pictured below. Additional pictures emailed on request.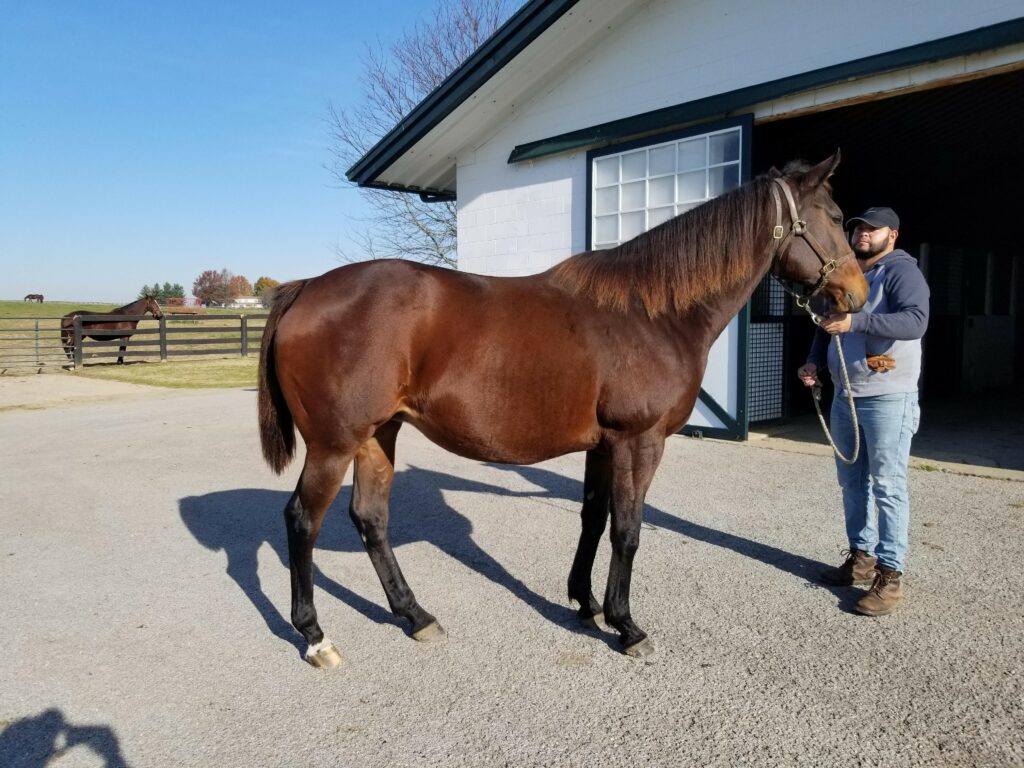 Emily Asking Price: $45,000